The 10 best hotels for French families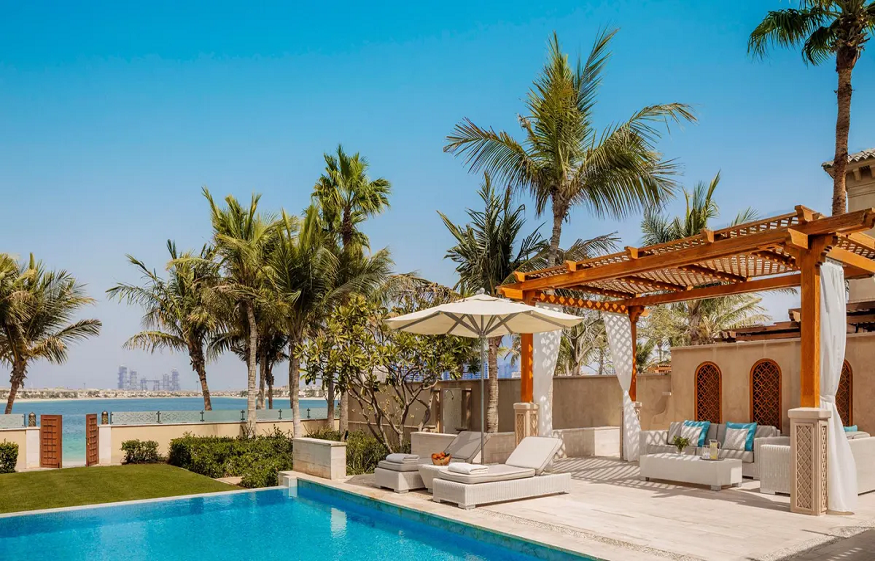 If you are planning a getaway to France or elsewhere with your children, this guide to the best family hotels is for you. Once you have chosen an accommodation that meets all your expectations, you can start your family vacation on the right foot.
These hotels and resorts are popular with travelers for their thoughtful touches and efforts to exceed all expectations. Many of these accommodations are conveniently located, have spacious rooms with cots at no extra charge, offer a variety of dining options and employ friendly staff with years of experience. You could even enjoy exclusive advantages for your happiness and that of your children.
Disney's Hotel New York – The Art of Marvel
Despite its name, Disney's Hotel New York – The Art of Marvel is located in Disneyland® Paris. Named after New York and Marvel comics, this hotel is sure to please if you're a fan of popular superhero movies. You and your children will enjoy its location with 2,000 hectares of world-class attractions, including 2 theme parks, 2 shopping malls and a golf course.
In addition, the hotel has indoor and outdoor swimming pools, a sauna and a spa, 2 restaurants, a free children's club and cribs or cots at no extra charge. You can also admire the 350 Marvel illustrations that decorate this place, the largest collection of this type in the world. Finally, a baby-sitting service is available at an additional cost to take care of your little heroes.CARTE
Located on the Palm Jumeirah island in Dubai, Atlantis Hotel , The Palm is an ocean-themed family resort. Its decor, a 2 km long private beach, will offer you a wide range of facilities and services adapted to your needs if you are traveling with young children and teenagers. You will find 2 outdoor swimming pools, a children's pool, water slides, volleyball and basketball courts, a bowling alley, a games room and 2 children's clubs.
Your stay at Atlantis, The Palm will give you many advantages: a free day pass for the Aquaventure Waterpark, daily visits to the Lost Chambers aquarium and access to the beaches of Royal Beach and Aquaventure Beach . Children and teenagers will not be left out thanks to the Atlantis Kids Club, designed for 4 to 12 year olds, and The Zone, aimed at 13 to 17 year olds. Your little freshwater sailors can throw themselves into the Little Pirates Playground, an outdoor playground with climbing ropes, tunnels and a pirate ship.
The 10 best getaways for the end of summer
For an all-inclusive getaway, head to the Fodele Beach & Water Park Holiday Resort in Malevizi, a family-friendly area of ​​Crete. Its private Fodele Beach has an award-winning water park that will provide plenty of fun attractions for your whole family. It is an ideal place if you want to practice volleyball, archery, flyboard and jet ski.
If you prefer a laid-back vacation, you can take a dip in one of the resort's 3 swimming pools. The youngest will also have access to quality infrastructure, thanks to the children's club where 4 to 12 year olds will enjoy educational and manual activities. Finally, the complex will offer you babysitting and bicycle rental services as well as diving lessons for all at an additional cost.
Terre Blanche Hotel Spa Golf Resort
Terre Blanche Hotel Spa Golf Resort is ideal for a well-deserved family getaway in nature. This 5-star accommodation easily overlooks vast natural landscapes, such as the Fondurane biological reserve and Saint-Cassien lake, as well as the 18-hole Terre Blanche golf course. Moreover, there is a very good golf school for budding golfers aged 4 to 18 who wish to learn the basics or improve their technique.
You will be spoiled for choice with the many leisure facilities at the Terre Blanche Hotel Spa Golf Resort. After a game of tennis on the complex's outdoor court, you will have the choice between relaxing by the outdoor infinity pool or continuing to warm up with a few breaststrokes in one of the 4 heated swimming pools. Meanwhile, your little ones will also have fun at the kids' club for ages 3 to 4 available on site.
In the heart of the Algarve countryside, Martinhal Sagres Beach Family Resort will be your starting point to natural parks and the pristine beaches of the Atlantic Ocean. This sprawling, peaceful resort features a 5-star hotel, luxury villas and terraced residences with spectacular views. You can stay there with your family with peace of mind, thanks to the 5 children's clubs spread across the site, each catering to different age groups.