Our advice for camping as a family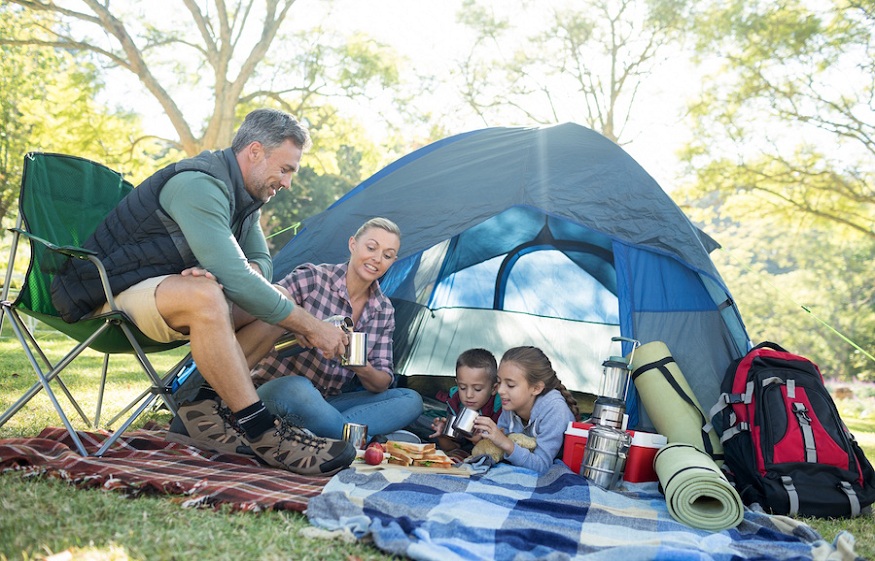 Do you want a good bowl of adventure and nature with baby? But you fear the vagaries of traveling with baby , transporting the tent and all the camping equipment? Rest assured. We have listed our best advice to get you started, whatever your child's age: essential equipment, ideal destination to go with baby, ideas for activities. All you have to do is book your next family vacation!
From what age to leave in  bivouac in family?
Family road trip enthusiasts will tell you that you can leave from a very young age. The most homebound will tell you to wait. Everything will depend on when you feel comfortable enough to go on an adventure with baby. But also, whether or not you used to go  camping before becoming parents.
If it's a big first for you, you risk apprehending, fearing that it's too complicated. Too complicated to organize, too much material to plan…
We hope that after reading our article, you will have changed your mind. Because in truth, the bivouac in family with baby can be very simple and low budget.
The good idea: pitch the tent in the garden for a first family micro-adventure. You will see that your child will already be delighted and this will allow you to practice pitching the tent for your next adventure. You can also try to find a tent site at a family campsite not far from your home, for a short stay.
During the first confinement we set up our tent for one night on our balcony. We slept very badly but only laughter with our 3 year old son.
How to make baby sleep in the tent?
We do not guarantee that it will be the most restful night of your life. Between the baby altitude , the change of environment, the excitement of the holidays and the sounds of nature that we are not used to, your child is likely to have trouble falling asleep. But, we bet you will create as many family memories as possible!
To make falling asleep faster, we advise you to go to bed at the same time as the children. It's also an opportunity to tell stories in the tent, huddled against each other.
For baby, we avoid the sleeping bag in which he could get stuck (babies move a lot at night). We prefer a sleeping bag adapted to the temperature with a merino wool bodysuit to keep warm.
What equipment should be provided for a family bivouac with a baby?
The objective will be to leave light but well equipped. Choose a tent that is as light as possible and spacious enough for all of you, sleeping bags for you and the children and a baby sleeping bag. To get dressed, we provide warm, waterproof and quick-drying clothes. For food, a good quality stove, and basic foods (a bag of pasta shells always works). If you leave for several days, you will stock up regularly.
Our selection of products to accompany you in bivouac
Whether you go hiking in the mountains, by bike, in a van, here is a list of specialized accessories for your comfort and safety:
Cloth or disposable nappies when camping?
Ah the big question of diapers! If you're going away for a very short time, eco-friendly disposable diapers will be a simple option. On the other hand, if you are going away for more than a week, the diaper packs may take up a lot of space. Why not make a mix between disposable diaper and washable diaper  ? By washing and drying the diapers in the open air and in the sun.
How to carry all the hiking equipment?
The bivouac + hike combo with a donkey. It's really a nice idea for magical memories. The donkey will carry your luggage, while you just have to carry baby. Depending on your child's age, he can also take short breaks on the back of the donkey.
Which destination should you choose for a family bivouac with a baby?
The one you want! In France, wild camping is authorized under certain conditions. As for the national parks, it is possible to set up your tent there, generally at the end of the day. To be checked on a case-by-case basis. For a first bivouac, we advise you to go to a natural place near your home. No need to aim for the other side of the country!
Sea or mountain? In the team, we prefer holidays in the mountains in the summer with the family . Especially in the summer. It will be easier for you to find a place to camp and to be quickly out of place. Among the destinations that often return to the side of adventurous parents: Mont Blanc, Chamonix, the Vosges, the Vercors.
And if you take the opportunity to take baby to his first festival? The Les Petits Baroudeurs festival is the unmissable event for families in search of nature and encounters. This year, it is organized both at the sea for the weekend of the ascent, and in the mountains at the beginning of July. Activities are planned for all ages: portage hike with the little ones, parent-child yoga for toddlers, tree climbing for the older ones. In short, a good plan to introduce you to camping or to make lots of new friends.