5 good reasons to choose the walking tour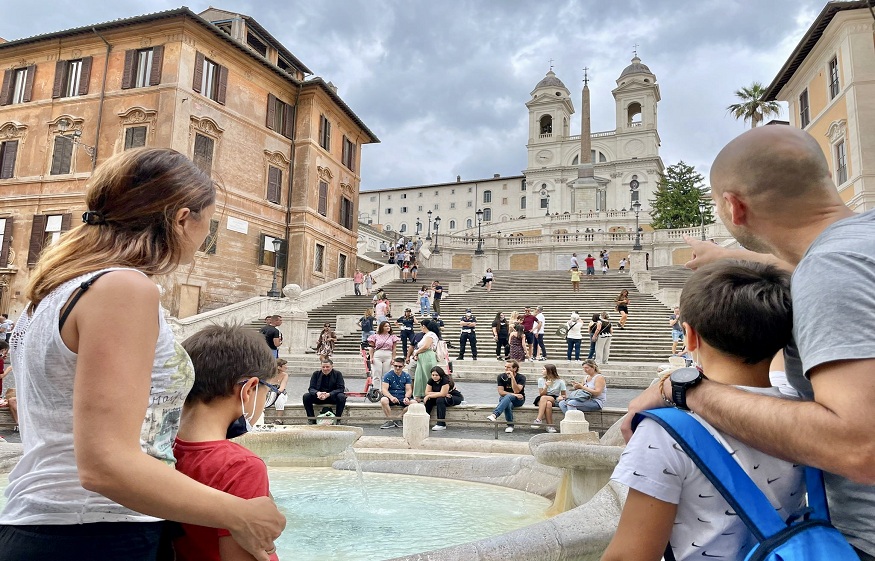 Traveling by walking sometimes hurts your feet and back a little, but it's not (only) out of masochism: there are plenty of good reasons to walk!
1. Give yourself time to travel .
On foot, there is no temporal contingency, no "jet lag", no transport stress, just the slow pace, the parade of hours and days. After a few weeks, we feel like we are regaining possession of ourselves.
We don't experience 'culture shock' , which some may experience when getting off the plane or train, as all transitions are smooth. In a world where everything is always going too fast, going for a walk means giving yourself the luxury of time: taking the time to discover, to share.
2. Go beyond the postcard .
Guides, we all have them in our bags when we go on a trip for a few days and that makes our wanderings much easier, but the risk is to find ourselves in a vacuum and to see of a country only its tourist showcase .
On the other hand, when you cross an entire country by walking, you necessarily leave the beaten track: you pass through unknown places, sometimes magnificent , sometimes of less interest. Even if it sometimes scratches the postcard, we gain in authenticity, whether in the encounters or in the landscapes.
For example, in Slovenia, we "missed" the magnificent lakes of the Alps, but we were welcomed in the countryside, in farms, sharing for a day or two the daily life of our hosts, discovering local life and food. And Julia learned to milk cows there!travel by walking
3. Traveling by walking allows encounters .
You will see, if you travel on foot, you will not be welcomed like any other traveller. We are often looked at as "nice fools" for walking such a long distance. After these first dubious and curious glances, people often sympathize with us and go out of their way to help us.
In the countries of Eastern Europe where accommodation is scarcer, the locals have always found solutions for us.
We have slept in improbable places : presbyteries, under barns, in schools, under large white tents with the children of a holiday camp… Each time these are extraordinary memories, which will certainly make the discussions of our old days!
4. Be happier with less .
When traveling on foot , you have nothing but a backpack with the bare minimum.  As clothes, for example, we only have 2 pants, 3 t-shirts and a fleece. Good and a little dress for Julia.. luckily the other 99 remained in the wardrobe…:)
We who liked our little comforts in the so-called "normal" life, we really appreciate living with less, it avoids being permanently polluted by material questions and it leaves the spirit available for something else, things and the encounters that make the journey.
The landscapes are "more beautiful" on foot . When you have "conquered" these spaces just with your feet, your determination and your patience, the emotion is increased tenfold.
We remember in particular the moment when, with 2000 km on the clock, we arrived at the summit of the Tatras at an altitude of 2,300m, on the border of Poland and Slovakia, after having climbed for more than two weeks all the massifs of the Carpathian chain.
3 tips for traveling on foot
An overloaded bag will make your trip a pain. It is therefore necessary to seek to lighten up as much as possible, which involves the purchase of quality equipment (generally less heavy than entry-level equipment), but also and above all through a personal approach, where one learns to sort and remove the superfluous.
Your bag weighs the weight of a dead donkey?! So before hitting the trails, take a look at the website of the ultra-light walkers community , you will find plenty of information and advice on how to lighten your bag! Ours are around 10 kg with tent, duvet, groundsheet, kitchen equipment, water…
CHOOSING A SUITABLE PACKAGE
The key to a memorable walking tour is to go for a suitable itinerary. This is where the precision of Tanzania Safari Packages comes into play. These itineraries offer a seamless mixture of experiences. So, when you opt for a walking tour, consider the itinerary as your compass, guiding you through the enchanting beauty of Tanzania or any other destination you choose to explore on foot.
Choosing the right route for a walking trip
There are a multitude of approaches and solutions for going on a long-distance walk. You can follow the very popular Camino de Compostela, or one of the many great hiking trails in France , often very well marked.
In Europe, there are about ten  European long-distance hiking trails that cross the continent, from east to west, from north to south.
There are also many "euro-cycle routes" , which may be of interest to walkers but which unfortunately are very unevenly signposted depending on the country.
For our trip, there was no pre-established route and we define our own itinerary day by day . To do this, we use a small touchscreen tablet (7 inches) and a GPS.
As far as possible, we avoid the main roads and we favor paths and small roads,  we explain how on our blog .
To prepare your itinerary, don't forget that the pace of progress is very different depending on whether you are in the plain or in the mountains. In the latter case, the elevations and the relief force us to make smaller stages.
Choose your accommodation
So, finding a roof for the evening, finding accommodation during this trip , is our daily challenge! But rest assured, several solutions exist depending on the location, your budget and the level of comfort you are looking for.